Saturday, May 30, 2009
12:00 - 4:00 pm

Open House
Stop by for food and drink and stay for free Thai Bodywork, Reiki and BodyTalk sessions. Come hang out for a little while, check out the studio and get some TLC for your body. There's a free Pilates class at noon, for which you need to pre-register, but during the Open House you can drop in at any time.
FREE PILATES CLASS
for new students
Saturday,May 30
12:00 - 1:00 pm
*class is limited to 5, please email ophra[AT]forceandflow[dot]com to reserve as spot*
OPEN HOUSE!
Food, Drink & Free Thai Yoga Bodywork, Reiki & BodyTalk sessions
1:00 - 4:00 pm
***
Saturday, May 30, 2009
8:00 pm

PuLsE SALON
A new monthly platform for sharing art work and creative energy. Each month a small number of artists will present their work - all mediums, performative and otherwise, are welcome - in exchange for which the audience will bring food and wine, as well as focus and feedback to share. An all around feast, we'll get our fill of soul food and belly food in one fell swoop.
If you would like to share some of your work this month, please email us at info[at]pulsestudio[dot]org with a few words about what you would like to show. We are open to unusual formats for showing and/or receiving feedback, as long as they are within our means.
Space, as those of you who have been to our studio may know, is limited, so if you want to participate as an audience member, please RSVP by emailing us at info[at]pulsestudio[dot]org.

***
GOIN' OUT OF MY HEAD
RELEASING YOUR INNER MUSIC WITH MORE FREEDOM AND JOY
With Andrea Wolper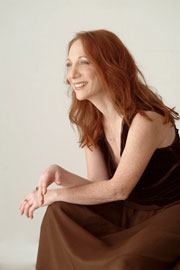 www.AndreaWolper.com

"Goin' Out of My Head" is a participatory workshop designed to help people get out of their heads and into their bodies and ears so they can access and release music with greater spontaneity, relaxation, and joy. All levels of experience are welcome.
Sunday, June 7, 2009
2 – 5 PM
$45
RECESSION SPECIAL: $35 if you register by June 1
click here for registration details
@ Pulse Studio (click for directions)
The truth is we're all musicians—we were born that way! Yet sometimes we find ourselves so concerned about "sounding good" that our musical expression becomes constricted. We want to stretch, to try something new, yet we may feel embarrassment or fear making mistakes. When this happens, we lose the vital connection with our musicality.
This workshop is for anyone who would like to gain greater access to their intuitive musical source. It includes an intro to basic vocal technique, and utilizes spontaneous music-making as a tool for increasing relaxation and opening up creativity. Whether you consider yourself a beginner or are an experienced musician, come spend an afternoon in a friendly, safe, supportive environment where you can stretch beyond your comfort zone and explore the edges of your musical creativity.
The intro to vocal technique is especially useful for people who like to sing but who haven't studied previously. This includes instrumentalists who are adding singing into their performances, and singers and instrumentalists who want to deepen their understanding off the whole body as the instrument.
Next, we'll use group singing and vocal improvisation for strengthening our ability to hear music, internalizing skills, and releasing music with greater freedom. We'll explore spontaneous and semi-spontaneous exercises that can help develop access to and trust in the inner, intuitive musician, leading to the rewarding discovery that we can do more with our voices/instruments than we imagined. We might even experience the pure, simple joy of letting our voices soar!

Feedback from previous workshop participants:
At the beginning I was rather blocked, but you encouraged me. . . you were so open and friendly that I could also open up, and try to make a voice from my voice. You quickly identified our weaknesses and challenged us to build on our strengths. . . Even now after a few weeks I'm still fascinated by how quickly we were able to make music together. The workshop gave me very much.
GG, Germany, flute
I want to say a big thank you for all you've brought to me and my school. These are the moments I'm working for. . .Also a big thank you from all the pupils. I saw many of them in the last few days and I can truly say that you've touched them deeply.
Oliver Székely, owner, Main Street Music, Erlangen, Germany
I enjoyed it immensely. It was fun as well as a warm and worthwhile experience. It was all very helpful and clear, and I'm more encouraged now to let go and trust my instincts more.
MM, USA, clarinet, saxophone
You brought out the best in each of us.
GH, Germany, flute
Thank you for the fun workshop. Your kindness and patience makes everybody feel welcome and comfortable.
ET, USA, voice
Thank you very much for this great experience. I felt very good after the workshop, and in my mind and my heart there was freedom.
MB, Germany, guitar, voice
About Andrea Wolper:

Jazz vocalist – improviser - songwriter Andrea Wolper has been described alternately as "entirely original" and "a singer with an uncanny emotional touch for the past 50 years of jazz," "an ensemble instrument" and a "recalcitrant problem child." Andrea's second CD, The Small Hours, presenting her arrangements of standard and non-standard music, as well as her own compositions, continues to receive high critical praise and to be heard on the radio since its release in late 2005. Her original song, Not Sleeping in Your Arms, remains in the top 5 most downloaded track of all time at AllAboutJazz.com. Performance credits include Dizzy's Club Coca-Cola (Jazz at Lincoln Center), JVC Jazz Festival, Iridium, Rhythm in the Kitchen Festival, Sweet Rhythm, 55 Bar, Makor, Greater Hartford Festival of Jazz, Jazz on the Plazz (CA), Fairfax Jazz Festival; tours in South Africa, Italy Portugal, Czech Republic, and annual tours in Germany; and numerous other concert and festival appearances. In addition to leading her own trio/quartet/quintet, Andrea is a member of TranceFormation, an improvising trio with Connie Crothers and Ken Filiano; SoHo Voce, a vocal improv collective; Art Lillard's Heavenly Big Band; and an improvising group with Adam Caine, Fung Chern Hwei, and Ken Yamazaki. www.AndreaWolper.com


Registration:

***Get $10 off the price of the workshop if you register by June 1st***

You can:
• Use PayPal: enter Andrea@AndreaWolper.com in the "To" box
• Send a check made out to Andrea Wolper to this address:
Pulse Studio
Attn: Ophra Wolf
1100 Dean St. #5
Brooklyn, NY 11216
Please be sure to provide your name and contact phone number and email.
Dress comfortably for the workshop!
Questions about Pulse Studio? Please contact: info[at]pulsestudio[dot]org
Questions about this workshop? Please contact: Andrea[at]AndreaWolper[dot]com